October 2023 Release Notes
Introducing Stadium Locker: Your Swag Management Solution
We are thrilled to announce the launch of our latest feature – Stadium Locker! 🚀
Stadium Locker is your all-in-one swag management solution, designed to simplify and streamline the way you access, organize, and replenish your swag inventory. Whether you're a dedicated swag enthusiast or a company looking to enhance your promotional offerings, Stadium Locker is here to make your life easier.
Key Features and Benefits
On-Demand Swag Collections: With Stadium Locker, you can now effortlessly browse and access your on-demand swag as beautifully curated collections. No more searching through piles or scrolling endlessly; everything you need is at your fingertips.

Efficient Inventory Management: For pre-purchased swag items, Stadium Locker empowers you to take control of your inventory. Track stock levels, monitor item popularity, and receive low-stock notifications so you can always keep your swag supply in check.

Easy Reordering: Running low on popular swag items? Stadium Locker simplifies the reordering process, ensuring you never run out of your favorite merchandise. Restock with just a few clicks.

Automated Restock Notifications: Say goodbye to manual inventory checks. Stadium Locker keeps an eye on your inventory and sends you timely notifications when it's time to restock, making sure you never miss an opportunity to impress your audience.
Getting started with Stadium Locker is a breeze! Simply log in to your account, and you'll find the new Stadium Locker feature in your dashboard. From there, you can explore your swag collections, manage your inventory, and order more swag with ease.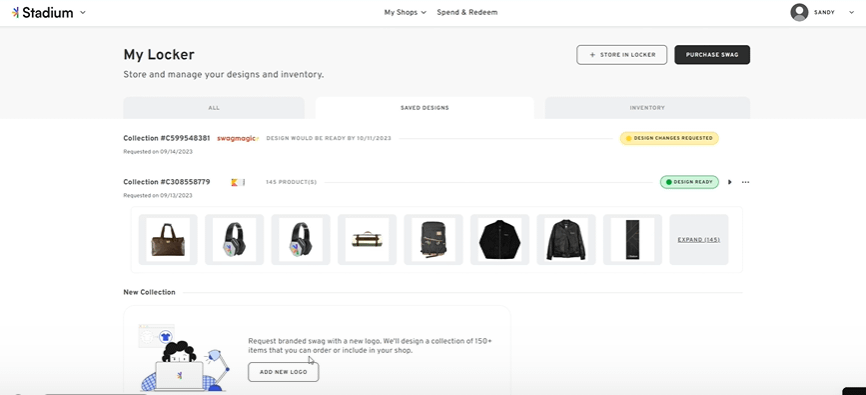 We're committed to enhancing your swag experience, making it more convenient and enjoyable than ever before.
Ready to elevate your swag game? Try Stadium Locker today and discover a world of simplicity and efficiency in swag management.
If you have any questions or need assistance, our dedicated support team is here to help. Feel free to reach out at hi@bystadium.com or chat with us directly.
Thank you for choosing Stadium Locker! We can't wait to see how it transforms your swag management. 🎉🎁